Skarga na sąsiada do dzielnicowego
Większość z nas mieszka w budynkach wielorodzinnych. Mamy sąsiadów z każdej strony. Budynki wielorodzinne niestety charakteryzują się świetną akustyką. Słyszymy wszystko, co dzieje się u sąsiadów. Możemy powiedzieć kiedy się kąpią, kiedy robią pranie i o której godzinie kładą dzieci spać. Niestety z tymi odgłosami nie jesteśmy w stanie nic zrobić. Są to dźwięki normalnego życia. Trudno zabronić sąsiadowi robić pranie, czy dziecku bawić się w domu. Wszystko fajnie, gdy jesteśmy w stanie się dogadać. Wiemy, że każdy z nas ma inne przyzwyczajenia, inny pomysł na życie. Dobrze gdy rozumiemy innych i gdy jesteśmy przez nich rozumiani. Co jednak mamy zrobić, gdy życie nie układa się tak gładko? Jak radzić sobie, gdy mamy uciążliwego sąsiada? Gdzie szukać pomocy,  gdy nasz sąsiad ciągle imprezuje lub wiecznie słychać awantury?
Na początek warto zacząć od sąsiedzkiej rozmowy
Może zwrócenie sąsiadowi uwagi da mu do myślenia. W końcu sąsiad nie musi się kąpać o 2 w nocy, lub o 6 włączać pralki, która maszeruje po całej łazience. Może warto wyjaśnić, że mamy małe dzieci, które śpią, rano wstajemy do pracy, albo najnormalniej w świecie, po prostu należy nam się chwila ciszy i spokoju we własnym mieszkaniu. Co jednak mamy zrobić z problemem, gdy rozmowa nie podziała? Co zrobić, gdy sąsiad zignoruje nasze prośby lub wręcz nasili swoje głośne harce?
Jednym z rozwiązań jest skarga na sąsiada do dzielnicowego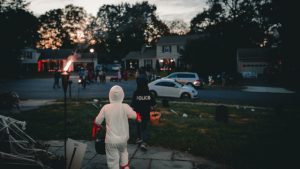 Jakie to niesie za sobą skutki? Sąsiad może dojść do wniosku, że nie żartujemy i skorygować swoje zachowanie. Tak naprawdę niektórzy dopiero po takiej interwencji zdają sobie sprawę, jak bardzo są uciążliwi dla innych. W tej sytuacji może okazać się, że sąsiad się zreflektuje i zmieni swoje zachowanie. Jest to najlepsze rozwiązanie, gdyż jednak musimy liczyć się z tym, że nadal mieszkamy w sąsiedztwie tych osób i najprawdopodobniej będziemy mieszkać wiele lat. Miło jest zachować dobre relacje z sąsiadami. Niestety jest też drugi model zachowań. Interwencja dzielnicowego może rozsierdzić naszego sąsiada. Może doprowadzić do eskalacji zachowań. Zwykłego zignorowania upomnienia bądź wręcz regularnej zemsty za skargę.
Niestety często w budynkach wielorodzinnych sąsiedzi potrafią być tak uciążliwi, że nie możemy zastanawiać się nad konsekwencjami naszej skargi. Chcąc normalnie żyć musimy podjąć kroki prawne.
Jakie skutki ma skarga na sąsiada do dzielnicowego?
Dla osoby, na którą wpłynęła skarga, na początek skończy się to rozmową i upomnieniem ze strony dzielnicowego. Pouczenie ma za zadanie pokojowe rozwiązanie konfliktu. Co dzieje się jednak, gdy takie pouczenie nie przynosi żadnych efektów? Niestety, nie mamy wyboru. Pozostaje nam kolejna skarga na sąsiada do dzielnicowego. Kolejna wizyta dzielnicowego może już skończyć się inaczej. Kolejnym krokiem walki z uciążliwym sąsiadem może być wniosek do sąd u ukaranie. Kary sądu w takich przypadkach bywają różne. Może to być kilkaset złotych grzywny, albo kilka dni aresztu. Taka kara może jednak pomóc w ukróceniu zapędów sąsiada.
W kontaktach sąsiedzkich jest też druga strona medalu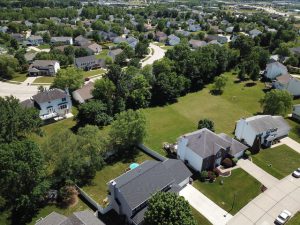 Uciążliwy sąsiad, który bez powodu uprzykrza nam życie. Tutaj mogę opowiedzieć kilka rzeczy z autopsji. Koleżanka miała sąsiadkę, która regularnie, co weekend dzwoniła na policję. W domu mogło nic się nie dziać, a policja i tak przyjeżdżała na interwencję. Oczywiście nie obyło się bez złożenia doniesienia do dzielnicowego. Jakie skutki ma taka skarga na sąsiada do dzielnicowego? Niestety dokładnie takie same jak w przypadku skargi na naprawdę uciążliwego sąsiada. Dzielnicowy przychodził i próbował rozmawiać. Szybko zorientował się w sytuacji, więc próbował załagodzić sytuację. Niestety uciążliwa sąsiadka wiedziała swoje. Ta sytuacja trwała latami. Dzielnicowy otrzymując zgłoszenie musi na nie zareagować. Tak naprawdę jedynym rodzajem obrony przed takim sąsiadem jest złożenie wniosku do sądu o nękanie. W przypadku takiej sprawy jest gwarancja wielu lat chodzenia po sądach. Tu dzielnicowy nic nie pomoże.
Urokiem budynków wielorodzinnych są sąsiedzi. Czasem dobrze, gdy ich mamy. Gorzej, gdy nasze życie z sąsiadami przypomina potyczki Kargula i Pawlaka. Trudno poradzić sobie z taką sytuacją. Jest to bardzo przykre, ale musimy być przygotowani na długą potyczkę. Czasami warto się zastanowić, czy nie lepiej zmienić sąsiadów.