Jak zachęcić dziecko do nauki
Będąc rodzicami, niejednokrotnie zastanawiamy się, jak zachęcić dziecko do nauki oraz do pożytecznych zajęć. Wiele zależy od tego, jakie jest nasze dziecko, jaki ma charakter i czym się pasjonuje. Czasami jest nam bardzo ciężko zrozumieć jego upodobania. Warto jednak wykazać się zainteresowaniem i nie krytykować dziecka zbyt często, zwłaszcza jeśli ma kłopoty w nauce. Może być wiele przyczyn takiego stanu rzeczy, niektóre dzieci nie lubią się uczyć, ponieważ dany przedmiot wydaje im się nudny. Niektóre mają problem z matematyką, inne z językiem polskim, jeszcze inni kiepsko radzą sobie z nauką języków obcych.
Jak zachęcić dziecko do nauki?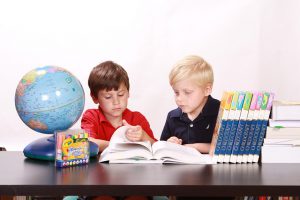 Jeśli mamy kilkoro dzieci, może zrodzić się w nas pokusa, by porównywać je między sobą. Jest to bardzo błędne i niepotrzebne. Jeśli dzieci poczują, że wywieramy na nie zbyt silną presję, nie sprawi to, że zapragną się uczyć. Najprawdopodobniej wywołała to efekt odwrotny od oczekiwanego. Mnóstwo rodziców zastanawia się, jak zachęcić dziecko do nauki w sposób skuteczny i żeby odniosło to należyty skutek. Zależy nam przecież na dobru dziecka. Najpierw musimy się zastanowić, czy nasz syn lub córka są wzrokowcami, słuchowcami, a może kinestetykami, wiele od tego zależy. Chodzi o to, że wzrokowcy uczą się patrząc na tekst i oglądając obrazki. Rezultat przyniosą więc pomoce wizualne. Słuchowcom dobrze idzie wysłuchiwanie wykładów, kinestetycy lubią uczyć się w ruchu. Może warto więc zachęcić ich do wyjścia na spacer i powtórzenie materiału na świeżym powietrzu lub w rytm ulubionej muzyki. Możemy być zdziwieni o ile szybciej, dziecko przyswoi sobie materiał, jeśli będzie to robić zgodnie z własnym charakterem i osobowością.
Nauka kluczem do sukcesów w życiu dorosłym
Każdy jest inny i ma własny zespół cech i genów. Może nam się wydawać, że dziecko powinno być podobne do nas. Tak naprawdę jest ono wielką indywidualnością i należy zawsze traktować je z szacunkiem i zastanawiać się, jak możemy mu pomóc. Sporo również zależy od tego, ile dziecko ma lat. Warto obudzić w dziecku motywację i determinację oraz przedstawiać mu cele. Może warto najpierw się dowiedzieć kim chce zostać w przyszłości. Jeżeli dowiemy się o jakim stanowisku lub zawodzie marzy, łatwiej nam będzie zmotywować go do nauki, tłumacząc, że właśnie do zdobycia go potrzebna jest szkoła, a nawet jeśli tak nie jest to szkoła uczy obowiązkowości i odpowiedzialnego podejścia do swoich obowiązków. Dzieci czasami się buntują i nie widzą sensu w nauce. Dobrze jest przyjąć to ze spokojem, ale również zachęcić ich do wytrwałej pracy tłumacząc, że jako dorośli również nie zawsze będą robili to, co w stu procentach im się podoba i przynosi zadowolenie. Najlepiej być mądrym rodzicem, żeby nie zrażać dziecka i zawsze zapewniać go o wsparciu i proponować rozwiązania
Daj dziecku dobry przykład!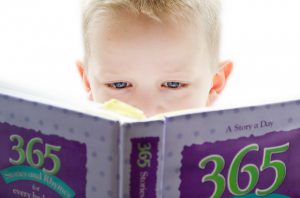 Oczywiście wskazanie dziecku, że nauka jest drogą do osiągnięcia sukcesu w przyszłości, to odpowiedni sposób na motywowanie dziecka do nauki. Jednak to nie wyczerpuje możliwości rodziców. Możemy przecież spróbować zwyczajnie zaciekawić dzieci otaczającym nas światem. Dokonamy tego jeśli sami będziemy się tym interesować. Warto więc by rodzice pielęgnowali swoje pasje i tym samym zarażali dzieci do zdobywania wiedzy. Jeśli będziemy czytać książki, a domu półki będą się od nich uginały to dziecko również będzie chętnie nie sięgało. Warto interesować się nauką i zarażać tym swoje dziecko. W tym wypadku motywacją nie będzie odniesienie w przyszłość sukcesu, lecz znajdywanie odpowiedzi na nurtujące pytania. To nauka w czystej postaci.
Nauka nie musi być nudna
Oczywiście warto również zachęcać dzieci do korzystania z różnorodnych pomocy naukowych. Czerpanie wiedzy tylko i wyłącznie z książek może na pewnym etapie stać się nużące. Dlatego warto zachęcić dziecko choćby do oglądania programów popularnonaukowych, czy też czytania czasopism. Dobrym pomysłem jest również zabranie dziecka do muzeum, czy też na różnego rodzaju eventy naukowe. To również może w znacznym stopniu rozbudzić zainteresowana naukowe naszego dziecka.