Kiedy odchodzi ktoś bliski, pomimo bolesnej żałoby, musimy zająć się formalnościami. Po zmarłym zostaje pamięć rodziny i przyjaciół, pełne wspomnień albumy rodzinnych fotografii, ale także spadek. Niestety, pomimo z reguły pozytywnych konotacji, spadek nie zawsze wiąże się tylko z korzyściami materialnymi dla spadkobiercy. Bywa tak, że masa spadkowa ma niewielką wartość, a w jej skład wchodzą długi, które w momencie zgonu dłużnika przechodzą na spadkobierców. Czy można coś w takiej sytuacji zrobić?
Może to być jeden z powodów, dla których można odrzucić spadek
Jest to możliwe również, kiedy chcemy przekazać swój udział w spadku innej osobie, bez przeprowadzania działu spadku. Odrzucenie spadku regulowane jest przepisami kodeksu cywilnego. W odróżnieniu od czynności, jaką jest zrzeczenie się dziedziczenia, odrzucenie spadku może nastąpić dopiero po śmierci spadkodawcy. Jeżeli jesteśmy pewni, że nie chcemy brać udziału w dziedziczeniu po zmarłym, musimy w ciągu 6 miesięcy od dnia, w którym dowiedzieliśmy się o powołaniu nas do spadku, złożyć stosowny dokument. W przypadku niedostosowania się do tego sześciomiesięcznego terminu, w świetle prawa, przyjmujemy spadek z całym dobrodziejstwem inwentarza.
Jak to wygląda w praktyce i jak dokonać odrzucenia spadku?
Dokument w formie oświadczenia o odrzuceniu spadku składa się przed sądem lub przed notariuszem. Może to mieć miejsce tylko w formie ustnej lub też pisemnej z podpisem urzędnika państwowego. Wyjątkową sytuacją jest, gdy oświadczenie składa osoba małoletnia, niemająca zdolności do czynności prawnych. Wówczas dokument składa przedstawiciel prawny takiej osoby, natomiast o rezultacie decyduje sąd. Więcej na temat tego, jak odrzucić spadek w imieniu małoletniego przeczytasz tutaj: https://jakwyjsczdlugow.pl/jak-odrzucic-spadek-w-imieniu-maloletniego-dziecka-wzor/
Co powinno zawierać oświadczenie o odrzuceniu spadku?
Do dokumentów powinien być dołączony akt zgonu spadkodawcy lub inny prawomocny dokument, potwierdzający, iż osoba jest zmarła.
Ponadto w prawidłowo wypełnionym dokumencie powinny znaleźć się następujące dane:
imię i nazwisko spadkodawcy
datę i miejsce śmierci spadkodawcy
miejsce ostatniego zamieszkania spadkodawcy
tytuł powołania do spadku
treść oświadczenia o odrzuceniu spadku
oświadczenie o kręgu spadkobierców.
W momencie, kiedy odrzucamy spadek, w świetle prawa występujemy, jak osoba, która nie dożyła otwarcia testamentu spadkodawcy. Prawo do dziedziczenia przechodzi więc wówczas na kolejne pokolenie. Jeśli zatem nie chcemy, aby nasze dzieci przejęły spadek, który obfituje w długi spadkodawcy, musimy zadbać także o to, aby i one zrzekły się przyjęcia spadku.
Jeżeli powodem odrzucenia spadku są długi spadkodawcy, wówczas sytuację mogą skomplikować wierzyciele, domagający się spłaty zadłużeń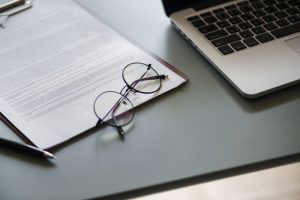 Uznani za pokrzywdzonych mogą żądać tego, by czynność prawna (odrzucenie spadku) została przed sądem uznana za bezskuteczną w stosunku do nich. Prawo to, chroniące wierzycieli przed niewypłacalnymi dłużnikami zwane jest skargą pauliańską. Jeśli owa skarga odniesie pozytywny dla wierzyciela skutek, to może on pozyskać przedmioty, wchodzące w skład masy spadkowej, aby odzyskać swoją należność. Podobnie, jak czas na złożenie oświadczenia o odrzuceniu spadku wynosi sześć miesięcy, tak analogicznie czas na wniesienie skargi pauliańskiej to także termin sześciu miesięcy. Odrzucenie spadku jest nieodwołalne, zatem jeżeli wierzyciel nie uzyska pozytywnej dla siebie decyzji sądu lub nie złoży stosownej skargi w określonym czasie, jego prawa do domagania się spłaty zadłużenia po prostu wygasają.
Czy można odrzucić część spadku?
Wiemy już, że można przyjąć spadek z całym dobrodziejstwem inwentarza bądź też w całości go odrzucić za pomocą oświadczenia o odrzuceniu spadku. Nasuwa się jednak pytanie; czy można odrzucić jedynie część spadku?
Prawo stanowi, że jest to niemożliwe. Nie można także odwołać raz złożonego oświadczenia o odrzuceniu spadku. Jednak, jak od każdej reguły, także i od tej są wyjątki. Takie nietypowe sytuacje, w których można odrzucić część masy spadkowej, ograniczają się do sytuacji, kiedy spadkobierca testamentowy odrzuca spadek i przyjmuje go jako spadkobierca ustawowy. Oznacza to, że może wówczas dziedziczyć część spadku. Istnieje także sytuacja, w której spadkobierca może odrzucić udział przypadający mu z tytułu przyrostu, a przyjąć udział przypadający mu jako spadkobiercy powołanemu.
Decyzja o odrzuceniu spadku musi być zatem dobrze przemyślana, a jej skutki przeanalizowane, najlepiej z prawnikiem. Odwołanie oświadczenia może mieć miejsce tylko i wyłącznie, kiedy udowodnimy, że dokument został złożony pod wpływem błędu bądź groźby. Dokument najlepiej sporządzić pod okiem prawnika, znającego się na sprawach spadkowych.