Jak założyć sklep internetowy krok po kroku?
Własny biznes jest marzeniem wszystkich tych, którzy mają już dosyć pracy na etacie i chcą wreszcie decydować o sobie. Podjęcie decyzji o odejściu z pracy etatowej jest trudne i wymaga przygotowania, zarówno pod kątem finansowym jak i decyzji jakim biznesem będziemy się zajmować. Wiele jest dróg i opinii jak zacząć pracować na własny rachunek. Niektórzy kontynuują pracę zawodową w kierunku dotychczas wykonywanej, inni postanawiają całkowicie zmienić branże. Chyba każdy słyszał historie osób, które porzuciły pracę w korporacji i założyły kawiarnię/restaurację/sklep internetowy.
Koszty działalności gospodarczej
Własna działalność gospodarcza wiąże się ze sporymi kosztami, które dla początkującego przedsiębiorcy mogą być duże. Ponieważ nie zarabia przeważnie dużych kwot, musi liczyć się z tym, że przez kilka miesięcy konieczne będzie dokładanie do biznesu. Dlatego poszukując zajęcia, które będzie nie tylko dochodowe i pozwoli pracować na swoim zastępując etat, warto znaleźć takie, które początkowo nie będzie wymagało poniesienia dużych kosztów inwestycyjnych. Warto tutaj zainteresować się założeniem sklepu internetowego. To dobry pomysł na rozpoczęcie własnego biznesu, nie ponosząc kosztów. Oczywiście koszty te są niewielkie jeśli zdecydujemy się na sklep w modelu dropshippingu. Założenie sklepu internetowego nie jest trudne, choć może być nieco czasochłonne. Do wyboru mamy gotowe platformy, które umożliwiają założenie sklepu całkowitemu laikowi, jak i te zaawansowane, które wymagają przygotowania strony przez fachowca. Trzeba jednak pamiętać, że aby prowadzić legalną sprzedaż przez internet, konieczne jest założenie działalności gospodarczej.
Jak założyć sklep internetowy krok po kroku?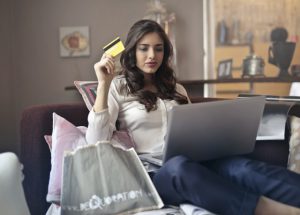 Obsługa bieżąca sklepu internetowego nie jest trudna dla osób, które mają jakiekolwiek pojęcia o obsłudze komputera. Metodą prób i błędów oraz tutoriali z internetu, można samodzielnie obsługiwać sklep. Aby jednak zarabiał on na siebie, a sprzedaż i nasze zyski rosły, konieczne jest pozycjonowanie sklepu. W ograniczonym obszarze, posiadając niewielką wiedzę w tym zakresie, można próbować robić to samodzielnie. Warto jednak zastanowić się, czy nie jest bardziej opłacalne powierzenie pozycjonowania sklepu profesjonalnej firmie. Koszt dla niektórych może być co prawda wysoki, ale trzeba wziąć pod uwagę, że dobrze widoczna w wyszukiwarkach strona szybko na siebie zarobi, a koszt pozycjonowania będzie mniej odczuwalny. Rozkręcając sklep w internecie trzeba pamiętać, aby podpisać umowę z firmą kurierską oraz wprowadzić płatności online. Wielu klientów zwraca uwagę na możliwość opłacenia zamówienia od razu po zakupie oraz na koszt wysyłki, jak i czas dostarczenia paczki. Warto wybrać niszową branżę produktów, aby konkurencja była jak najniższa, a strona często odwiedzana przez klientów.
Gotowe platformy sklepowe
Na rynku istnieją także gotowe platformy sklepowe. Zakładając konto na takiej platformie możemy wybrać jeden z planów abonamentowych i za niewielką miesięczną opłatę możemy cieszyć się w pełni funkcjonalnym sklepem internetowym. Co więcej, platformy takie posiadają wbudowane moduły integracyjne z hurtowniami dropshippingowymi. Dzięki takiej integracji uruchomienie swojego pierwszego sklepu ogranicza się właściwie tylko do kilku kliknięć i zaakceptowani umów. A jeśli otrzymujemy już w pełni działający sklep internetowy pod klucz, to możemy zająć się na poważnie jego promowaniem. Sklep przecież musi zarabiać.
Jak promować sklep internetowy?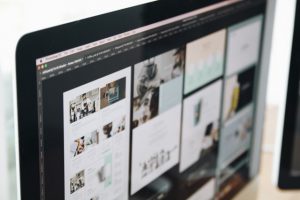 Sposobów na promowanie istniejącego sklepu internetowego jest wiele. Wcześniej wspomnieliśmy o pozycjonowaniu, lecz jest to tylko jedna z metod skutecznej reklamy. Z powodzeniem można jeszcze korzystać z wykupienia płatnej reklamy w Google. W przypadku Google Ads płacimy tylko za przekierowanie użytkownika na własną stronę. Możemy także reklamy kierować do konkretnej grupy odbiorców, potencjalnie zainteresowanych naszymi produktami. Sklep internetowy można także promować przy pomocy popularnych serwisów społecznościowych. Facebook również umożliwia wykupienie reklamy skierowanej do konkretnej grupy odbiorców. Warto również zainteresować się reklamą na Instagramie, chociaż to już zalezy od branży w jakiej działa sklep.