Tusk kandydat na prezydenta
Wielkimi krokami zbliżają się wybory prezydenckie w Polsce. Już w 2020 będziemy mieli możliwość wyboru nowej głowy państwa. Wśród wymienianych przez media kandydatów jest między innymi przewodniczący Rady Europejskie Donald Tusk. Czy faktycznie będzie kandydował? Jakie szanse ma Tusk kandydat na prezydenta?
Od Kongresu Liberalno-Demokratycznego do Platformy Obywatelskiej
Donald Tusk to polityk doświadczony. W latach młodości aktywnie angażował się w działalność opozycyjną. W latach 90. był działaczem Kongresu Liberalno-Demokratycznego, a następnie Unii Wolności. Po przegraniu walki o przywództwo w partii z Bronisławem Geremkiem postanowił założyć własne ugrupowanie polityczne. Wraz Andrzejem Olechowskim i Maciejem Płażyńskim założyli w 2001 roku Platformę Obywatelską. PO dostała się do parlamentu, gdzie była liczącą się silną opozycją najpierw dla rządu tworzonego najpierw przez SLD, a później przez PIS. W 2005 roku Tusk przegrał walką o fotel prezydencki z Lechem Kaczyńskim, co było jego wielką porażką. Jednak w 2007 roku doprowadził swoje ugrupowanie do zwycięstwa w przyspieszonych wyborach parlamentarnych.
Premier Tusk i rządy PO
Kto by się wówczas spodziewał, że Donald Tusk zostanie premierem aż do 2014 roku. Nie będziemy tutaj rozstrzygać jakie to były rządu, jednak warto podnieść, że w tym czasie Polska suchą stopą wyszła z kryzysu gospodarczego. Jednak w wielu kwestiach zabrakło konkretnych decyzji i odwagi politycznej co dało paliwo kampanii wyborczej PIS-u w 2015 roku. Tusk ustąpił ze stanowiska w 2014 i wyjechał robić karierę w Brukseli jako przewodniczący Rady Europejskiej. Co niewątpliwie należy uznać za spory sukces polskiego polityka.
Tusk kandydatem na prezydenta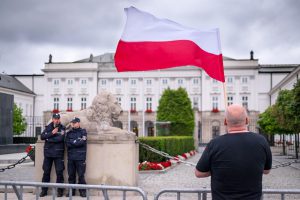 Donald Tusk nigdy całkowicie nie odciął się od krajowej polityki. Często komentuje wydarzenia w kraju. I jest swego rodzaju zadrą w oku środowiska PIS. Również dlatego, ze nadal stanowi dla niego spore zagrożenie polityczne. Czy jednak realnym jest kandydowanie Tuska w najbliższych wyborach prezydenckich? On sam do końca nie potwierdza tych informacji. Ale dziennikarze są zdania, że jeśli miałby się on na powrót zaangażować z krajową politykę to naturalnym wyborem będzie fotel prezydencki. Jednak aby móc wystartować w takich wyborach i mieć szanse na wygraną trzeba uzyskać spore poparcie ze strony zaplecza politycznego. Czy Donald Tusk ma takie poparcie?
Przede wszystkim wydaje się, że naturalnym zapleczem politycznym dla Tuska powinna być Platforma Obywatelska. Jednak warto wiedzieć, że jej lider – Grzegorz Schetyna – wcześniej, w ramach rozgrywek wewnątrzpartyjnych podkopywał dołki pod Tuskiem. Z pewnością dla niego powrót Tuska do polityki w wydaniu krajowym byłby zagrożeniem przywództwa w środowisku PO. Nie wiadomo też, czy PO nie zdecyduje się na wystawienie własnego kandydata na prezydenta. Chociaż w jej obozie próżno jest szukać polityka pokroju Tuska, który stanowiłby realne zagrożenie dla dotychczasowego prezydenta Andrzeja Dudy. Tusk mógłby być również naturalnym kandydatem na prezydenta na nowo powstałej Koalicji Obywatelskiej jeśli ta w ogóle przetrwa do czasu wyborów prezydenckich.
Tusk kandydatem niezależnym
Jest też taka możliwość, że Donald Tusk wystartuje w wyborach prezydenckich jako kandydat całkowicie niezależny. Wydaje się, że jako polityk znany i popularny mógłby sobie pozwolić na taki krok. Możliwe jest też, że na bazie swojej popularności zechce stworzyć zupełnie nową partię polityczną, która będzie zapleczem dla jego prezydentury. Taki krok jednak w dalszej mierze rozdrobniłby jednak opozycję antypisowką, która w takich bólach była przecież tworzona. Nie da bowiem się ukryć, że taka partia wessałaby część polityków PO i Nowoczesnej. Dlatego taki krok mógłby być strzałem w kolano.
Wydaje się, że przez część opinii publicznej Tusk jest wyczekiwany jako mąż opatrznościowy na fotelu prezydenckim. Nie da się ukryć, że ostatnio mamy spory problem z obsadą tego najważniejszego stanowiska w państwie. W zasadzie ostatnim prezydentem przez duże "p" był Aleksander Kwaśniewski. Później mieliśmy dość niefortunną prezydenturę ś.p. Lecha Kaczyńskiego, bogatą w liczne wpadki prezydenturę Bronisława Komorowskiego, i oczywiście prezydenturę Andrzeja Dudy, o której niewiele dobrego można powiedzieć. Czy Donald Tusk jako prezydent będzie człowiekiem na odpowiednim miejscu. Obecnie poprzeczka zawieszona jest dosyć nisko. Naprawdę niewiele trzeba, aby być dobrze odbierany przez opinię publiczną i media. Wydaje się, że Donald Tusk może w pełni podołać temu zadaniu.